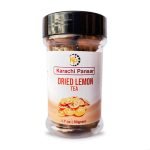 Dried Lemon Tea
خشک لیموں کی چاۓ
₨480
Soothing for sore throat or cough
Prevents from kidney stone
Vitamin C in this Tea improves heart health
Treats Post-operative swelling
Relieves headaches
Boosts the immunity
Keeps the skin fresh and healthy
Description
Additional information
Brand
Reviews (0)
Description
Dried Lemon tea has earned a reputation for being a potent health-supporting tool. Presence of vitamin C in it helps to  soothe viral cold and flue. Dried lemon tea can help you digest food and to some extent helps weight loss. The name 'dried lemon' is attributed to its noticeable and refreshing  lemony scent.
English Name: Dried lemon tea
Urdu Name :
خشک لیموں کی چاۓ
Uses & Health Benefits:
Acts as anti-oxidants
It has anti-aging properties and slows down the aging process.
Regulates high blood sugar
Beneficial for mental health
Have good effect on blood pressure
Soothing for sore throat or cough
Prevents from kidney stone
Vitamin C in this Tea improves heart health
Treats Post-operative swelling
Relieves headaches
Boosts the immunity
Keeps the skin fresh and healthy
Note:
The information is for educational purposes only. This information has not been evaluated by the Food and Drug Administration.
This information is not intended to diagnose, treat, cure, or prevent any disease.
Additional information
| | |
| --- | --- |
| Weight | 100 gm, 250 gm, 500 gm |
| Form | Whole, Powder |
Brand
Karachi Pansar
Online Pakistan