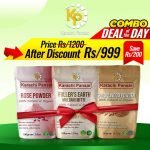 Combo Deal Rose, Multani Mitti & Sandalwood Powders
روز ملتانی مٹی اور صندل
₨999
Help Fight Inflammation
Helps Reduce Membrane-Damaging Free Radicals
Help Those Suffering From Acne
Removes excess sebum and oil
Antibacterial And Anti-Inflammatory
Acne And Blackhead
Description
Additional information
Brand
Reviews (0)
Description
Rose, Multani Mitti & Sandalwood Powders are good for considered very good for the skin. They can remove dirt and excess oil from the pores and helps you to get rid of the bacteria with the help of its anti-bacterial property. The blend of these three magical ingredients works wonders for your skin.
Uses & Health Benefits:
Promotes Skin Health
Sandalwood DIY Face Packs
Fight acne and pimples.
Help Fight Inflammation
Helps Reduce Membrane-Damaging Free Radicals
Help Those Suffering From Acne
Removes excess sebum and oil
Antibacterial And Anti-Inflammatory
Acne And Blackhead
Suntan and Pigmentation
Fairer Skin Complexion
Astringent Property.
Cleanses and nourishes the skin
Subdues blemishes/dark spots
---
Note:
The information is for educational purposes only. This information has not been evaluated by the Food and Drug Administration.
This information is not intended to diagnose, treat, cure, or prevent any disease.
Additional information
| | |
| --- | --- |
| Weight | 50 gm, 100 gm, 250 gm, 500 gm |
| Form | Whole, Powder |
Brand
Karachi Pansar
Online Pakistan