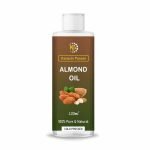 Almond Oil (Roghan Badam) 120ml
(روغن بادام)
₨980
Makes Skin Healthier
Reduces Dark Circles
Delays Signs Of Aging
Prevents the Appearance of Scars
Removes Impurities And Dead Skin Cells
Description
Brand
Reviews (0)
Description
Sweet Almond oil (روغن بادام) had been used extensively for its health benefits and as a beauty aid much before science caught up with the goodness of this seed oil. This amazing oil is extracted from raw almonds. It owes its benefits the generous amounts of monounsaturated fatty acids, vitamin E, potassium, proteins, zinc, and a number of other vitamins and minerals it contains.
English Name: Almond Oil
Urdu Name: روغن بادام(Roghan Badam)
       Uses & Health Benefits:
Makes Skin Healthier
Reduces Dark Circles
Delays Signs Of Aging
Prevents the Appearance of Scars
Removes Impurities And Dead Skin Cells
 Reducing Skin Itching
Treat Dandruff
Promoting Nail Health
Treats Chapped Lips
Moisturizing Skin
Prevents Wrinkles
Sunburn Prevention
Note:
The information is for educational purposes only. This information has not been evaluated by the Food and Drug Administration.
This information is not intended to diagnose, treat, cure, or prevent any disease.