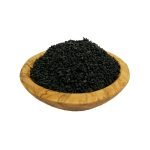 Onion Seeds
تخم پیاز
From ₨81.60
They prevent fungal infections or scalp diseases which lead to hair fall at an alarming rate.
They are rich in essential oils which nourish the hair and enhance their growth.
Prevents Premature Greying
Protect against Parkinson Disease
Description
Additional information
Reviews (0)
Description
Belonging to the same family of black cumin, onion seed is also known as kalonji, black onion seed تخم پیاز, black caraway, etc. Onion seed constitutes 38% of oil that is responsible for its aromatic flavor. The seeds are used as flavoring agents while cooking. The seeds need to be toasted to enhance their fragrant tinge.
English Name: Onion Seeds
Urdu Name: تخم پیاز
Scientific Name: Allium Cepa
Uses & Health Benefits:
Prevents Hair Loss
They prevent fungal infections or scalp diseases which lead to hair fall at an alarming rate.
They are rich in essential oils which nourish the hair and enhance their growth.
Prevents Premature Greying
Thymoquinone present in black onion seeds helps in protecting brain tissue from any kind of damage due to radiation. It protects brain tissues from nitrosative stress which is caused due to radiation.
Protect against Parkinson Disease
Reduce breast cancer tumor growth.
It help in reducing all indications of morphine intoxication, morphine addiction and tolerance. This is known to prevent toxicity too. It is beneficial for those who are suffering from severe cases of morphine addiction.
It helps in suppressing appetite which means lesser calorie consumption which will lead to weight loss.
They are an effective treatment for different kind of throat problems which includes acute tonsils, pharyngitis, cough and throat tissue inflammation. They are also beneficial in offering relief from sore throat.
Note:
The information is for educational purposes only. This information has not been evaluated by the Food and Drug Administration.
This information is not intended to diagnose, treat, cure, or prevent any disease.
Additional information
| | |
| --- | --- |
| Weight | 50 gm, 100 gm, 250 gm, 500 gm |
| Form | Whole, Powder |