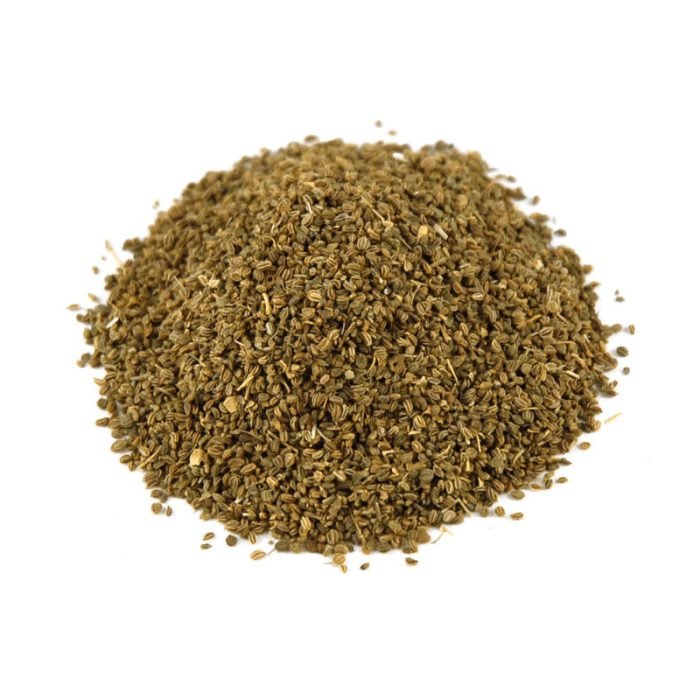 Celery Seeds
تخم قرفس
From ₨101.60
It helps in managing the blood pressure levels.
Reduce The Cholesterol Level
Celery seeds are also used to cure circulatory system problems.
It Has A Cancer Fighting Ability
Description
Additional information
Reviews (0)
Description
Celery seeds (تخم قرفس) are tiny globular seeds that are sold whole, slightly crushed, or ground. The leaves, which are light green, are used whole (fresh or dried), flaked, or ground. The stalks or stems and root are sold fresh. Properties: The dried seed is dark brown with light ridges.
English Name: Celery Seeds
Urdu Name: تخم قرفس
Scientific Name: Apium Graveolens
Uses & Health Benefits:
Celery seeds helps in treating pain and inflammation of the joints. Having celery seeds everyday helps in curing inflammation related ailments such as gout, rheumatism as well as arthritis.
Celery seeds stimulate the uterus and helps in easing muscle spasms, especially related to the female reproductive system.
Celery seeds are helpful in easing menstrual cramps and pains. If women have it on everyday basis then it really eases the symptoms of menstrual discomfort.
Celery seeds are diuretic in nature. Because celery seeds are diuretic in nature they are recommended to people with kidney stones, water retention, as well as gout.
It helps in managing the blood pressure levels.
Reduce The Cholesterol Level
Celery seeds are also used to cure circulatory system problems.
It Has A Cancer Fighting Ability
Protects Liver From Harmful Effects
Note:
The information is for educational purposes only. This information has not been evaluated by the Food and Drug Administration.
This information is not intended to diagnose, treat, cure, or prevent any disease.
Additional information
| | |
| --- | --- |
| Weight | 50 gm, 100 gm, 250 gm, 500 gm |
| Form | Whole, Powder |